TAKE ACTION NOW!
What you have seen is shocking but true: decent people who love the Chesapeake Bay getting life-threatening infections by simply coming in contact with its polluted waters–and their pets, too.
WHAT CAUSES SUCH INFECTIONS?
What causes these infections? Runoff from farms using tons of fertilizer and dumping animal manure on farm land; human sewage from treatment plants and leaking septic tanks; burning coal for electricity; and car and truck exhausts. They all cause nutrient pollution. But in Anne Arundel County and other urban areas like Baltimore City and County, the nutrient and sediment pollutants come largely from polluted stormwater runoff.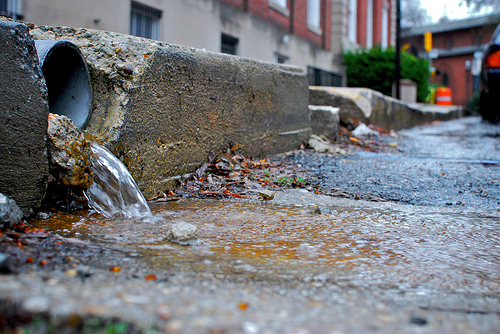 Every time it rains, the water runs off paved surfaces and washes all the nutrients, chemicals, and dirt into our creeks and streams. An inch of rain falling on an acre of hard surface can produce 27,000 gallons of stormwater runoff.
Stormwater runoff flushes fertilizer from lawns, and pesticides, oil and anti-freeze, pet waste, and sediment (dirt) into the nearest creek or stream from developed areas such as your house, streets, and all hardened surfaces whether shopping centers, churches, schools, parking lots, or highways. New construction adds to this poisoned runoff—that's why so many of us are fighting against the massive and destructive Crystal Spring development in Annapolis that would destroy 49 acres of mature forest and replace it with impervious surfaced parking lots, buildings, and roads and thereby increase polluted stormwater runoff.
When this pollution enters our waterways, it causes excess algal growth in warm months which fuel toxic organisms that can cause infections that attack human flesh as you have witnessed. These infections can kill people or result in the loss of limbs. These toxic organisms also infect dogs that come in contact with our waters. Polluted runoff contributes greatly to the resulting dead zones in the Chesapeake Bay and can kill fish and oysters and other critters living in the Bay's waters. Oyster bars are smothered by the excess sediment in runoff (80% of the Bay's oyster bars are so affected and unproductive.)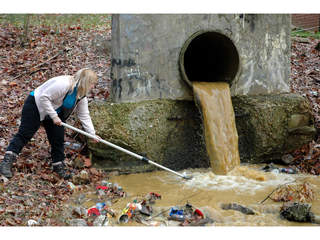 Stormwater runoff causes serious streambank erosion, loading the water with silt and nutrients. The natural cleansing mechanisms provided by forests and soil and its organisms are circumvented when runoff flows directly into streams, and the increased temperatures of runoff lowers dissolved oxygen in the water and destroys the spawning success of trout and other fish.
Forests and wetlands once provided natural filtration and cleansing of stormwater but these have been replaced in Anne Arundel County alone by 43,000 acres of impervious surfaces: roofs, driveways, sidewalks, roads, shopping centers, office parks, and lawns. Yes, lawns also cause pollution through sheet flow as your lawn is shallow-rooted and rainwater flows off of it.
Natural filtration of rainwater into the ground replenishes ground water, the source of much of our drinking water. Rain running quickly off the land does not allow for this ground water recharge.
The stormwater runs off untreated into 33,383 storm drain inlets in Anne Arundel County conveying polluted runoff to 5,215 storm drain outfalls. Compare this with eight outfalls for the County's eight largest sewage treatment plants which operate under strict pollution controls.

Just think how much more polluted stormwater reaches the Bay from all Maryland Counties!
STORMWATER RUNOFF FROM DEVELOPED AREAS IS THE ONLY BAY POLLUTION SOURCE THAT HAS INCREASED OVER THE LAST 30 YEARS.
WHAT CAN I DO TO HELP REDUCE THE STORMWATER POISONING CREEKS?
Here are things you can do yourself to minimize runoff at your home, business, office, school, or house of worship. These measures can be installed alone or in a sequence to get the most benefit. Once runoff leaves your property there is no longer an opportunity to filter the pollutants before they go into the storm drain system and enter the nearest creek or stream.
Consider what our Bay would be like if each property owner had a goal to hold all of their stormwater on site to achieve "zero runoff"? Here's what you can do to achieve this: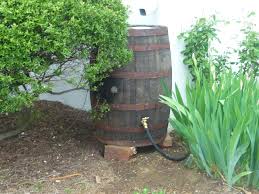 1) Install rain cisterns or tanks or rain barrels to capture roof runoff to allow it to slowly infiltrate into your landscape beds or actively use it for irrigation. Nowadays there are a lot more aesthetically pleasing cisterns on the market which hold more gallons. Keep in mind that a 55-gallon rain barrel fills up very quickly in an average rain. Rain pumps are now available so that you can use the water more actively, say for watering container plants or vegetable gardens.
2) Install rain gardens (also called bioretention cells) which are sunken depressions in the landscape which temporarily hold water from a downspout and allow it to infiltrate into the ground. Rain gardens are constructed with special soils and planted with water-loving vegetation – such as blue flag iris, white turtlehead, and cardinal flower. These lovely gardens improve water quality as they filter pollutants from the roof or pavement runoff. Curiously, rain garden plants thrive on the pollutants found in runoff thus there is a symbiotic relationship as nitrogen and phosphorus are the chemicals found in fertilizer. You also may redirect downspouts to existing planting beds.
3) Replace turf (lawns) with conservation landscaping–also sometimes called "rainscaping" or "bayscaping". Areas are planted with native trees, shrubs, flowering perennials and groundcovers such as sweetbay magnolia, winterberry, buttonbush, coneflower, gayfeather, and bluestar, some of which absorb up to 14 times more rainwater than a grass lawn thus reducing runoff. They also lessen the time and expense of mowing, watering, and fertilizing. They also offer greater visual interest than lawns–they are a lot prettier–and provide habitat for wildlife, especially birds.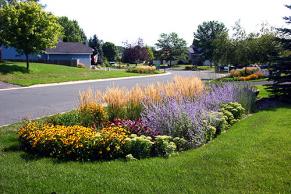 This year, homeowners are being asked to plant native wildflowers which attract bees, such as herbs, asters, bee balm, black-eyed Susans, goldenrod, as well as plants which draw monarch butterflies, such as milkweed, butterfly weed, Joe-Pye weed, and tall garden phlox. Monarch butterfly populations are at their lowest levels – the migratory population declined 40% in one year resulting in great concern about possible extinction.
4) If you are building a new home, an addition, a new patio, or driveway you should try to minimize impervious cover by installing pervious concrete or pavers which allows rainwater to infiltrate into the ground thus producing no runoff. You can visit the butterfly garden at Quiet Waters Park to see pervious concrete paths and surfaces.
5) Fertilizer use is one of the most harmful pollution sources causing the serious infections you have seen and in the decline of the health of our creeks and streams and the Bay. Fertilizer causes dense algal growth which limits the amount of sunlight and reduces the oxygen available for fish, plants, and other aquatic life and causes the proliferation and acute toxicity of organisms leading to flesh-eating infections. Try not to use lawn fertilizers but instead spread leaf compost (e.g. Leafgro) throughout your beds and lawn. If you make your own compost, keep it covered so that you reduce the weed seeds and keep animals out. If you must use fertilizers, test your soil to determine the appropriate amount. If fertilizer falls onto driveways or sidewalks, sweep it up instead of hosing it away. Do not use fertilizers with phosphorus and only use the absolute minimum of nitrogen needed. Never apply fertilizer or pesticides before it rains.
7) Compost leaves and grass clippings. Alternatively, bag leaves and grass clippings and place at the curb for collection—not loose in the street. Doing this keeps leaves out of the gutter, where they can wash into the nearest storm drain. Do not cut your grass too short and use a mulching lawn mower, preferably electric, and leave the grass clippings in the lawn. This is nature's age-old fertilizing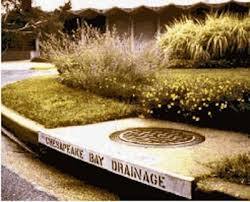 7) Do not put leaves in the road – they will be carried to the nearest storm drain. Decomposing leaves are bad for water quality as they consume up to seven times more oxygen than when they decompose on land and are partially responsible for dead zones and fish kills due to the depletion of oxygen and the release of nitrogen, both of which are very harmful to aquatic life.
8) To hold moisture in the soil and reduce weeds, cover planting beds with 2-3" of hardwood mulch or pine fines (another type of mulch). Try to resist using black or orange mulch as they contain dyes which are also potentially harmful. Plant and stabilize bare spots to prevent erosion.
9) Do not use pesticides; instead use natural alternatives which are more readily available. Brands such as Safer®, Concern®, and Victor Poison-Free® are three organic insect controls recognized as world leaders in the organic plant disease control and organic gardening categories. They can be used indoors or outdoors and are safe around pets and children. Only apply any pesticide when rain is not forecasted.
10) Pick up after your pets and dispose of pet waste in the garbage. It is Maryland law! Pet waste produces approximately 1/3 of the bacterial pollution in our waterways and is carried there by runoff. Consider putting up a pet waste station in your neighborhood if it is a problem.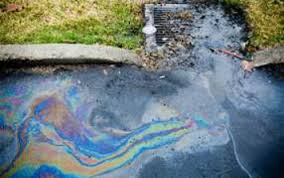 11) Never dump or place anything such as paint or other chemicals, yard waste, or pet waste near stormwater drains—it will end up in the nearest creek or stream.
12) Consider a green roof on your home, garage or shed which will retain runoff and at the same time modulate temperatures in your home. Green roofs can be used in conjunction with solar panels and they hold runoff.
13) If you have a septic system, maintain it properly by having it pumped every three to five years. Never put chemicals down septic systems, they can harm the system and seep into the groundwater. If it is an older system or is failing, replace it with a Best Available Technology nitrogen removing septic system. A County grant may be available to do this or to hook into public sewer service. Go to: http://www.aahealth.org/programs/env-hlth/well-septic-systems/brf
14) Support efforts to retrofit existing stormwater systems in your community, workplace or house of worship. Many stormwater ponds are failing and can be retrofitted to maximize their potential functions to hold and settle stormwater.
15) If you are a commercial property or business owner or work where there are large areas of impervious surfaces, have your site assessed to see if there are opportunities to retrofit the property – such has been done at local car dealerships, houses of worship, multi-unit housing developments,, and schools. You can reduce your stormwater remediation fee while also improving the health of your local stream and the Chesapeake Bay.
WHAT ELSE CAN I DO TO STOP THE STORMWATER POLLUTION PLAGUE?
1) Make sure that new developments do not increase stormwater pollution by assuring that the County or City of Annapolis or jurisdiction where you live fully enforces stormwater laws requiring environmental site design in all new development and protects forests and vegetated buffers around all streams.
2) Report sediment violations (look for the brown water flowing during a rain event), eroding stormwater channels, deteriorating outfall pipes, broken sewage pipes, and unstable stream banks to the Anne Arundel County Sediment Hotline (410-222-7777). Excessive sediment in runoff is very detrimental to aquatic life in our small creeks and streams, smothering living organisms. Call the same number for the Critical Area Hotline to report tree clearing, sediment runoff, or illegal building: Be sure to call this number before you cut vegetation in the Critical Area.
The Chesapeake Bay Safety and Environmental Hotline is a state-wide toll-free phone number to report an environmental problem–one phone call will now direct citizens to the appropriate agency to make a report 24 hours a day, 7 days a week: call – 1-877-224-7229 to report an environmental violation, fish kill or algal bloom, or illegal fishing activity. It's the 911 of the Chesapeake Bay.
3) Become an advocate for clean water by doing your part to improve water quality where you live, work, and play.
HOW CAN I CONTACT SOMEONE TO IMPROVE MY YARD, OFFICE, HOUSE OF WORSHIP, OR OTHER LAND NATURALLY TO STOP POLLUTED STORMWATER?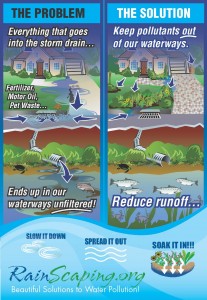 1) For additional information on how to retrofit your home, commercial property, school, or house of worship please contact an expert dedicated to this issue–Anne Guillette at the Low Impact Desgin Studio at www.lidstudio.com or email info@lidstudio.com. The LID studio can assist with assessments, planning, design, permitting, construction, and possibly get a grant to help fund your project.
2) Review the excellent RainScaping Campaign web site at: http://www.rainscaping.org/ for more details about what you can do and how to work on your rain gardens or landscaping for the Bay. Zora Lathan has done a great job in putting together this web site—use it to learn more.
3) View a nine-minute video, "Reduce Runoff—Slow It Down, Spread It Out, Soak It In," which highlights green techniques such as rain gardens, green roofs, and rain barrels that help manage stormwater runoff in a more sustainable manner. The film, produced by the U.S. EPA in partnership with the U.S. Botanic Gardens, showcases green techniques that are being used in urban areas to minimize the impacts of stormwater runoff on the quality of downstream receiving waters. Go to: http://water.epa.gov/polwaste/green/video.cfm#reduce
CAN I GET FINANCIAL HELP TO REDUCE POLLUTED STORMWATER RUNOFF?
Yes:
▪ Anne Arundel County Property Tax Credit
Anne Arundel County property owners who install rain barrels, rain gardens or other stormwater controls are eligible for a property-tax credit equal to 10 percent of the cost of the improvement, for five years. The deduction is capped at $10,000 over the five years. Homeowners will receive a 10 percent credit for each of the five years, for a 50 percent total. To download a form: http://www.rainscaping.org/index.cfm/fuseaction/home.showpage/pageID/34/index.htm
▪ Maryland's $25 Tree Credit
Obtain a coupon at—www.trees.maryland.gov—worth $25 off the purchase of one tree with a retail value of $50 or more at all participating retail nurseries and garden centers. The discount is taken at the register at the time of the sale. One coupon must be filled in for each tree purchased.
▪State Grants for Stormwater Retrofits for Local Government and NGOs.
Local Implementation Grants are available for stormwater retrofit projects through the Maryland Chesapeake and Atlantic Coastal Bays Trust Fund. These grants are not made to individuals but to local governments and NGOs and fund many local stormwater retrofit projects. The grants can be in excess of $1 million. For more information, visit: http://www.dnr.state.md.us/ccp/funding/trust_fund.asp or email: Jennifer Raulin at: jraulin@dnr.state.md.us.
WHAT CAN I DO TO ASSURE THE COUNTY MEETS ITS STORMWATER POLLUTION REDUCTIONS?
SUPPORT THE STORMWATER FEE. You can help reduce stormwater pollution from existing development and make the waters here in Anne Arundel County safer for you, your children, and your pets by supporting the stormwater fee to help the County stem the polluted stormwater from past developments like where you live, work, and drive. After all, the fee was only $51 this fiscal year in Anne Arundel County, less than the county increased most of our property taxes. Tell the County Executive and County Council members to support the fee and stormwater clean-up and tell all candidates running for office this year that we want our creeks cleaned from poisonous stormwater.
Anne Arundel County—and other Maryland counties–have a huge backlog of projects to fix stormwater problems to protect water quality including fixing stormwater ponds that don't work, correcting severe flooding and erosion problems, fixing stormwater outfalls to minimize pollution, and stabilizing stream banks from erosion. In Anne Arundel, Remember, many of the 33,383 storm drain inlets in the and the 5,215 storm drain outfalls to our creeks and streams need retrofitting to prevent so much pollution. The cost to meet EPA pollution limits: $900 million.
Some stormwater projects that used rain gardens and other improvements to reduce pollutants include the old Rockfish Raw Bar & Grill (now Blackwall Hitch) in Eastport. This was a "zero runoff" project – highly difficult in an intensively developed urban area. It included porous concrete, bioretention cells, and conservation landscaping.
Other successful stormwater projects include Annapolis Hyundai, Koons Toyota, Annapolis Subaru, St. Mary's Catholic Church parking lot, St. Martins Lutheran Church, Heritage Baptist Church, the Maryland Department of Agriculture, and the Anne Arundel Department of Health. The Severn Riverkeeper also managed the Cabin Branch stream restoration project near the Annapolis Mall. Most of these project used state or county funds to assist in the stormwater improvements which both beautified properties and reduced polluted stormwater runoff.
PLEASE DO YOUR PART TO HELP PREVENT BAY POLLUTION. FOR THE SAKE OF OUR CHILDREN AND GRANDCHILDREN, PLEASE ACT TO PROTECT OUR NATURAL HERITAGE AND CLEANSE OUR POLLUTED STREAMS AND RIVERS OF THE STORMWATER RUNOFF PLAGUE.
PREPARED BY:
Former State Senator and Professor Gerald W. Winegrad who is solely responsible for the content. gwwabc@comcast.net;